About Eat Your Peas
Words for the heart. Wisdom for the journey.

At the heart of each Eat Your Peas book is a drop-everything promise to be there for someone special during times of heartache and hilarity. Originally inspired by a teen named Maddy, author Cheryl Karpen wanted to give this amazing young person a nightstand promise— a promise to be there to listen and lean on. With over one million copies sold, today the fifteen title Eat Your Peas Gift Book Collection, has an encouraging and uplifting message for individuals ages 5 to 105—living proof that an "I care" message has far reaching tendrils into the heart of humanity. Today a whole new generation is embracing the PEAS promise with our new 2017 edition books featuring updated sentiments and even more spirited art.
Artfully hand-illustrated by artist Sandy Fougner, each book is 72 pages, four-color and is accompanied by a decorative envelope for easy mailing and gift giving. Won't you sneak a peek?
What people are saying...
Share your experience with Eat Your Peas.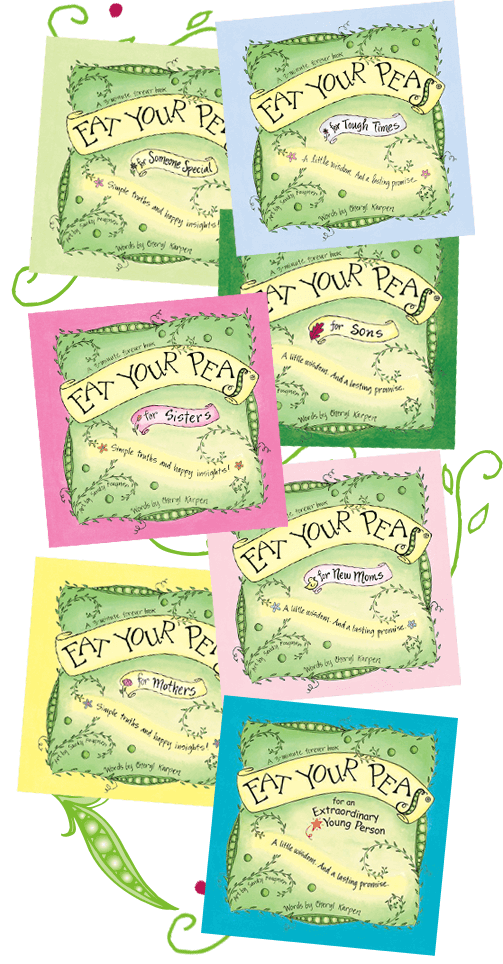 Helping over a million hearts inspire the world.
With a passion for people and their stories, Cheryl Karpen relentlessly shares a message of contagious possibility through her Eat Your Peas Collection of gift books and to audiences who long to live a more authentic, peaceful, yet purposeful life.
We get this one life to make a difference. So why not live the best story of our lives? Cheryl believes life will be messy, yet beautiful, sometimes difficult, and often hilarious. She is convinced if we know we are loved, believed in, and know our life has purpose and meaning, we can survive and even thrive.
Today Cheryl's publishing company, Gently Spoken, is dedicated to helping others communicate love, hope, and encouragement when individuals can't find the words themselves. To learn more about having Cheryl energize your group or organization.
An avid kayak enthusiastic, biker, hiker, reader, and traveler, Cheryl loves creating beautiful and serene environments, both indoors and out. She is proudest of her new role as grandmother to Elowyn and Piper and being wife to her guitar man, Mark Dougall.